Professor T's Titchy Itchy Flea Circus is a Victorian-style sideshow. A hilarious show with invisible fleas performing incredible feats of daring. A hilarious performance that will leave you scratching your head. Each show lasts 15 to 25 minutes and can be extended if required. This makes it ideal for festivals, shopping centres, schools and organised events. Treat it like a punch and Judy as one audience leaves another comes and takes its place. Ideal audiences are mixed family groups as the jokes are targeted at all ages.
This sideshow contains fun and laughter with a little exaggerated Victorian history. The persona of the magnificent Professor T's as the flea circus ringmaster is one of those Victorian sideshow characters that would most likely sell you snake oil. Professor T's amazing invisible fleas are real! Just ask Professor T.
Each show is performed and repeated for every new audience. Depending on the size of your event the show can be lengthened or shortened, to accommodate as many people seeing the show as possible.
The circus in miniature, can be performed from a gazebo or hidden corner of the room, preferably out of the hear-shot of the next audience.
Everything comes complete: the circus with tight rope, high dive, cannon and of course trapeze. Invisible fleas. No fleas are harmed during these performances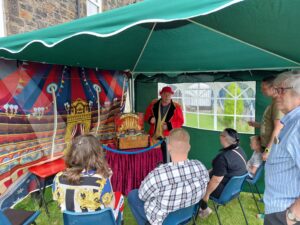 The good news is the way the flea circus can be funded. The first option is to hire Professor T to come to your event for the number of hours you require him. Professor Ts will then perform free shows for all your visitors and give them great memories of your event.
The second option is to hire Professor Ts as above and sell tickets for each performance. Professor Ts can arrange this, the money raised through ticket sales can offset your event expenditure.
Ask for more details